Our name, Vancouver on Canvas, probably gives away what we specialize in - everything to do with canvases from canvas stretching, custom stretcher bars, floater frames and of course canvas prints!
However, we also provide services and products related to just regular prints on paper or artwork on paper (ie. watercolour paintings, sketches, posters and etc). We offer many different ways for our customers to display and show off their artwork and photographs.
Generally, you need to consider a few factors: decide where you are displaying the photograph, the importance of longevity, how much value it has to you and the overall look-and-feel. You must consider these factors to make your choice in how you want to mount the image because different methods of displaying your photo will be for different purposes.
1. Dry Mounting


I'll start the first segment of this article about dry mounting. Many photographers and artists use this method to display their photos and artwork for gallery showings. Dry mounting is quick, inexpensive and it can last for a long time if handled with care. There are many different materials you can dry mount on.

Many people are probably familiar with wet mounting, as a child you probably done a lot of arts and crafts where you take a liquid-like glue to paste your artwork onto cardboard or heavy papers. Dry mounting, as you can guess is the opposite, the adhesive is a dry fibre that is heated to stick the pieces together. No mess, no bumps or lumps and no worry of liquid bleeding through your artwork.
How It Works
Drying mounting is a process where a paper print and a foam board are permanently attached to each other. A sealing tissue is placed between the artwork and the board and it is heated by using a mounting press to permanently adhere the pieces together.
Dry mounting is great way to insure that the print will have no appearances of bubbles or waves – your photo or artwork will look clean and crisp while on display. This displaying method is inexpensive and easily portable it isgreat for ready to hang posters, maps, presentation material and any prints on paper.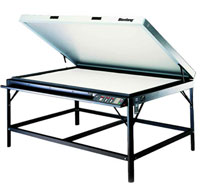 Vacuum Dry Mount Press
Dry mounting is permanent so you must consider the value of the print before you consider dry mounting. If your artwork is a one-of-a-kind or limited edition piece you must keep in mind that dry mounting will affect the value of the artwork. Although all our mounting and print material are acid free, dry mounting is not considered an archival method of mounting.
The term "archival quality" is thrown around a lot but many people don't understand what it means. Of course the sound of museum archival quality makes us believe that it is better, but what makes something archival quality? It is the standards that curators follow to handle rare or old artifacts. To meet these standards, the item can be treated to prevent any deterioration but it must be reversible and the original piece must be in tact with no changes. Most people don't have curators handling their pieces and even though archival paper is acid free, not all acid free paper is archival quality.
Therefore, dry mounting does affect your artwork's longevity or how you want to present it. It is just not a good displaying method for valuable artwork or museums. This method of display can last for a very long time if it is handled carefully, it is a clean and non-intrusive way of displaying photos and artwork.
At Vancouver on Canvas, we offer a variety of mounting material for all your photos and artwork. The most popular ones are foamboard and gatorboards and the difference between these to boards is the durability. Both boards are constructed in the same way two pieces of paper-like material with synthetic material between them.
Foamboard is better for short term displaying because it is not as strong as gatorboard. The paper part of the gatorboard is a lot thicker than on foamboards and it can be used for both indoor and outdoor.
We also have sintra (plastic), dibond (aluminum), matboards (cotton rag) and MDF (plaque mounts) for dry mounting.
Dry mounting has a sleek and simplistic form that is quick and an affordable method for displaying all your artwork and photographs. You can easily transport all your work and change where you want to hang it.
Visit Vancouver on Canvas to get your photos and artwork printed and dry mounted!